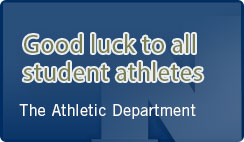 More Events

V/JV Boys Volleyball @ Simsbury

4/24/2019
5:00/4:00 pm
Away - Simsbury HS


V/JV Boys Volleyball vs Southington

4/25/2019
6:00/5:00 pm
Home


V/JV Boys Volleyball vs Conard

4/29/2019
5:00/4:00 pm
Home


V/JV Boys Volleyball @ Wethersfield

5/1/2019
5:00/4:00 pm
Away - Wethersfield HS


V/JV Boys Volleyball vs Hall

5/2/2019
5:00/4:00 pm
Home


V/JV Boys Volleyball @ Farmington

5/6/2019
6:00/5:00 pm
Away - Farmington HS

Boys Volleyball
2018
2017
2015
2014
2012
CIAC CLASS M STATE CHAMPIONS
WEEK 6 SCHEDULE:
Monday, April 22: HOME match v. Farmington 3:00 arrival (serve & pass) 4:00JV/5:00V start
Tuesday, April 23: Practice 2:30-5:00 NHS gym
Wednesday, April 24: Away match v. Simsbury 2:45 bus departure 4:00JV/5:00V start
Thursday, April 25: HOME match v. Southington 4:00 arrival (serve & pass) 5:00JV/6:00V start
Friday, April 26: Practice 2:30-5:00 NHS gym
Saturday, April 27: Practice 8:00AM-10:00AM NHS gym Drop-in to play/work on your game
FYI - check out the website www.offtheblockblog.com for links to view live-streaming of D1, D2 and D3 collegiate men's volleyball matches from around the nation.
Sand volleyball court at Churchill Park: Try to utilize this hometown resource where you can play volleyball outdoors as long as the weather permits. Playing sand/beach doubles is one of the best ways to improve your overall volleyball game as both players must do every skill: serve, pass, set, attack, block, dig. There is no place to hide. Playing with only two players on a side will increase your range, court awareness and stamina. A fun, yet competitive, format is "King of the Court". You play a match partnered with each player in the foursome. In the end, there will be a King (the player who wins with every partner) or not.

|

|

Share